You belong with us.
How do we know? Because we appreciate difference. You are unique, just like us! Here at First Central we not only welcome but actively encourage our colleagues to be authentic at work. After all, it's their right and it's our superpower. We put people first. Always.
Our Inclusive Culture
In 2022 we decided to glow-up our Diversity, Equity Inclusion and Belonging (DEIB) Strategy and it looks like we nailed the assignment. We LOVE data, so here are the numbers: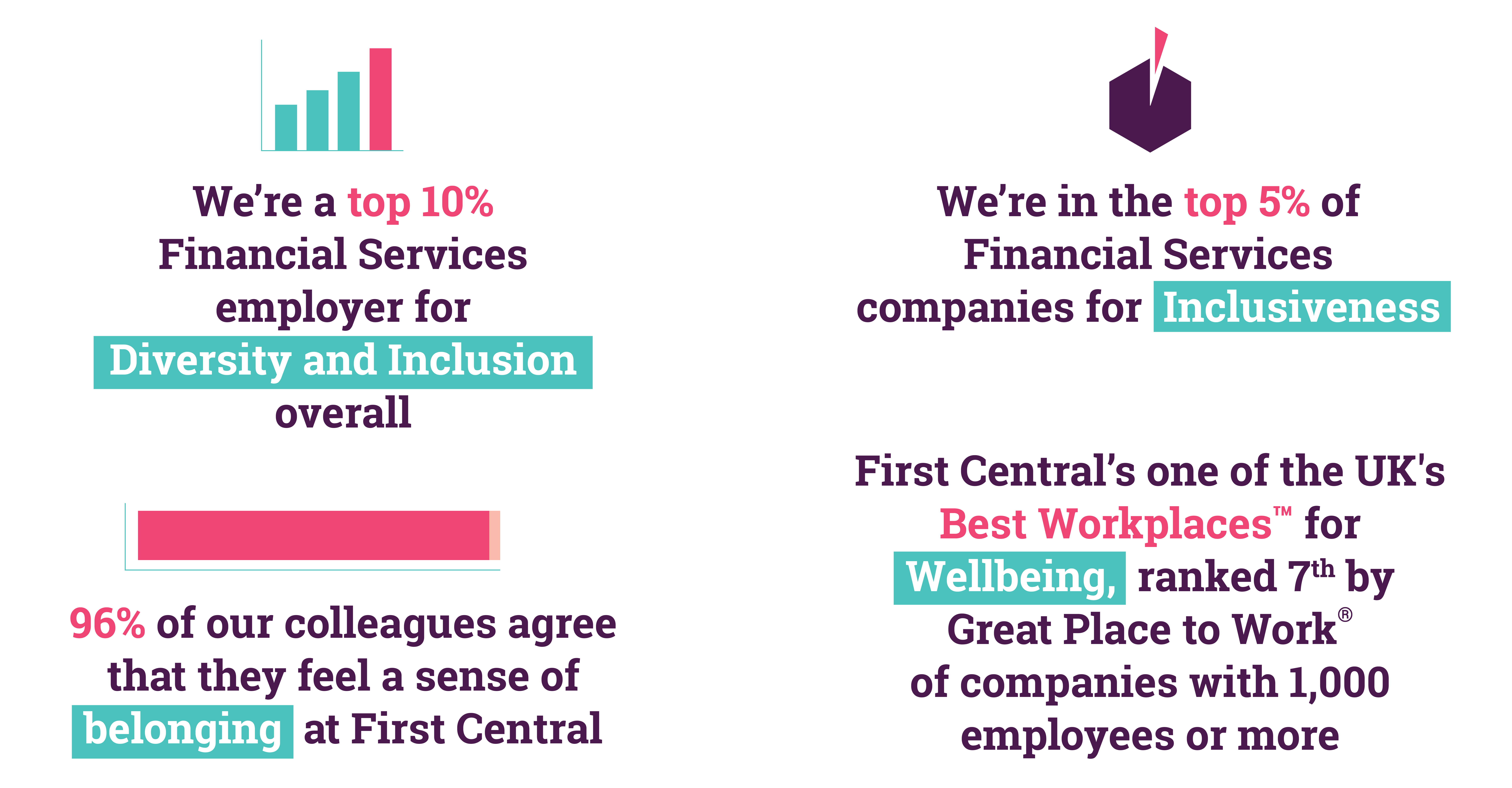 So, what's making our colleagues so happy? It's simple really. Our policies are designed by people, for people. Our colleagues don't put their lives on pause when they come into the office (or when they login if they're hybrid working) and nor should they. Here are just a few of the policies we offer:
Five paid days' leave for those unavoidable life situations we don't think it's fair you should have to use annual leave to deal with. Whether it's a burst pipe in your home, emergency childcare or settling an elderly parent into their new retirement home, the 'Your Time In Need Policy' has your back.
Celebrate the year your way with our 'Flexible Bank Holiday Policy'. It means you're free to observe the religious festivals you choose, except Christmas (but only because we're closed for business).
Care for your family with our enhanced 'Primary Parent' and 'Co-Parent' Leave (our in-house, more inclusive version of Maternity and Paternity leave).
We have a bunch more inclusive benefits on offer.
Our Inclusive Communities
Now this all sounds great, doesn't it? But there's more to come...
We've created five colleague-led communities to amplify the diverse range of voices throughout our organisation and let them tell us what we're missing. These communities drive progress across a range of topics, including but not limited to: LGBTQIA+, Gender, Race, Ethnicity, Age, Disability, Neurodiversity, Socioeconomics and Religion. So, let's just say watch this space.
Our Commitments
Enhancing our Diversity is a no-brainer for us. It drives innovation, business performance and pretty much makes work a nicer place to be for everyone. So here are just a few of our commitments:

Charity and Community Partnerships
First Central features large in all the communities it serves. We get stuck into charity work, educational initiatives, partnerships with local councils, business alliances and support tons of worthwhile events. We give back and, whether it's time, money or other resources, how we do it's always driven by the people we help.
We never forget Collaboration's one of our values. Rewarding, supportive networks are our motivation, especially those that give colleagues a chance to be hands on. We want them to see the bigger picture. To consider the world and its people outside the office walls. They don't need pushing.
Every other year, each of our offices votes for a charity to support and we set ourselves meaty fundraising and volunteering targets. Everyone gets an extra day's annual leave for voluntary work. One day they could be decorating a hospital staff room so it's a relaxing space in between shifts. Or busying themselves with a big beach clean-up or a garden spruce-up. If we can, we try to sort it so colleagues can volunteer together and share the experience. We're all about teamwork.
Our chosen charities are remarkable, their services ranging from providing end-of-life, palliative care for children, running homeless animal sanctuaries, supporting people of all ages with autism and giving practical help to improve the life chances of disadvantaged children. The work they do is extraordinary, and we feel privileged we can help.
We've built long-term bonds with lots of community partners. We're proud of these initiatives and what they've achieved: digital skills development and internships for young people? Tick. Helping local teenagers to boost their employability? Yep. Our partnership with The Sussex Cricket Foundation pays back time after time. More and more people of all ages, genders and abilities are getting involved. There's an active Women & Girls programme, the children's game's thriving and disability cricket's seen record-breaking participation. The 1st Central County Ground played host to the first ever County Disability Fixture at a first-class venue.
Foundation '92 was set up by Manchester United's Ryan Giggs, Phil Neville, Paul Scholes, Nicky Butt and Gary Neville. Its main goal (excuse the pun) is to help people in Greater Manchester to lead more active, healthier and happier lives by tackling major issues like disability, mental health and homelessness. It's all about improving lives through sport and First Central's the charity's principal partner. We've watched it grow, develop and achieve far-reaching community results. In just one year, over 7,000 people can benefit from 3,000 hours of First Central support. We're happy our colleagues can be there to make difference.